We stayed at the All Star Sports Resort inside Disney World. Being the most non-sporting family ever, I was not excited about this. But it was cheap ($77/night) and close, so I wasn't going to complain. And then I saw our room. It was on the second floor, just to the left of the 3.5 story coke cup. It's as if they knew I was coming and knew just where to put me. We further celebrated our love of the beverage by purchasing refillable mugs at the resort and getting our moneys worth out of them! Incidentally, do you know how much coke you have to drink in a week to make an $11.99 mug worth it?



Our room! We had a baseball theme, and it wasn't nearly as tacky as I had read about or expected. In fact, it was kind of cute. Very Disney. I think our room had been recently renovated, as it was nicer than some I saw open when mousekeeping was cleaning them.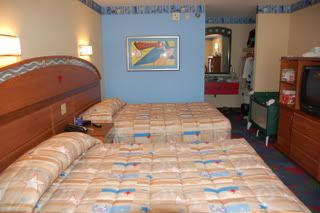 This is what our kids looked like every day when we entered the parks. In fact, there is less angst in this one than any of the others. By they time they rode the bus and got it in the park, they needed a lot more than a Disney photographer to make them smile. In spite of photographic evidence to the contrary, they had a good time. Well, Hatchling did anyway. H2 doesn't really care where he is or what he's doing, as long as mommy and plenty of bottles are there with him.




In Epcot, Hatchling was a Jr. Chef and helped make chocolate chip cookies. He's always "cooking" something for us, so we knew he would love this.




His job was to crack this egg open. Only it wasn't a real egg. The poor kid worked forever trying to get it open, and kept asking the lady why it wasn't working.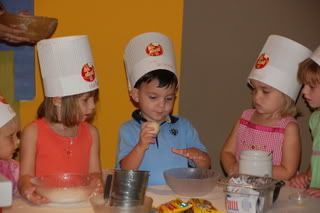 Here's H2 doing his thing while we wait on Daddy and H1 to ride something. He was super content to sit and chew on something for 99% of the time. What a good boy.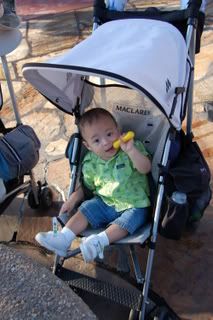 We had family pictures taken in the Grand Floridian. Here's a selection of the better ones. It's so hard to get good pics with two kids to contend with!