Ok, it really wasn't haunted at all. Two nights before, our electricity flashed about 5:30 in the morning and the sound of our printer warming up in the closet under the stairs (where all of our computer equipment lives) sounded like footsteps in the house and THAT felt haunted. Boy, was L mad at me for leaving it on when I know I'm supposed to turn it off before bedtime. But I digress...
First, our lovely pumpkin:
And our pumpkin seeds, which were quite tasty!
Here is Hatchling modeling the Jack O Lantern Pie, pre-oven (which was a big hit, despite me not being able to get it orange enough)!
And finally, the cutest froggy and Buzz Lightyear you will ever see!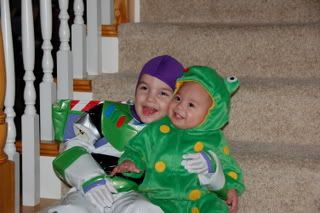 Hatchling was delighted and very accepting when I only let him pick out two things from his candy bucket, and went to bed with a big smile on his face. I re-distributed the candy we didn't like from his bucket, and L and I enjoyed some as well.
Despite having bought two huge bags of candy at Sam's, we were completely out by 8 o'clock. That was alright, however, because the innocents were all in bed by that time and van loads of people (who apparently don't know that no porch light = no candy) were being dropped off from house to house. And I mean van loads. Most of them were at least as tall as me, and that just irritates me. At that point, you're just begging. And while I'm at it, don't think you can throw a monster mask on over your Loyd's Garage uniform, invade my personal space, NOT say anything, and get some candy from me. You can, cause you are bigger than me, but seriously, learn the proper protocol or I will be forced to mock you. And I'll be irritated, and no one wants me irritated.
I can't wait until next year!